The Advertising add-on for GetPaid, allows you to easily manage ads and insert them anywhere on your WordPress website.
It allows you to sell ads (Hosted Ads) or simply display ads from 3rd party networks like Google AdSense and get paid for their impressions on your website.
It is also fully integrated with GeoDirectory and its Pricing Manager add-on.
Sell ads on your WordPress website
You will be able to sell:
Text Ads
Image Ads (Banners)
HTML Ads (Best used for 3rd party ad networks)
Listings Ads (With GeoDirectory)
And GetPaid will manage the transaction and invoicing for you.
Text only Ads
Useful for smaller zones of the website where only text would fit. The entire text can be turned into a link.
Image Ads
These are the most typical ads, where only a banner is displayed.
HTML Ads
These are best used internally because this option allows adding javascript code, which is what you need to embed ads from external ads networks such as Google Adsense.
Given that you can moderate each ad before publishing it, you have the option to allow your users to embed code as ads. This for example makes it possible to add YouTube videos as ads.
GeoDirectory Listings
If you have GeoDirectory and the pricing manager installed, you can include an ad zone inside a premium listing package. When a user buys this listing package, you can display that listing in other zones of your website.
An example would be adding a zone on top of Search Results to obtain a SERP that looks very much like a Google Search where there are organic results and paid results.
Ads Pricing Options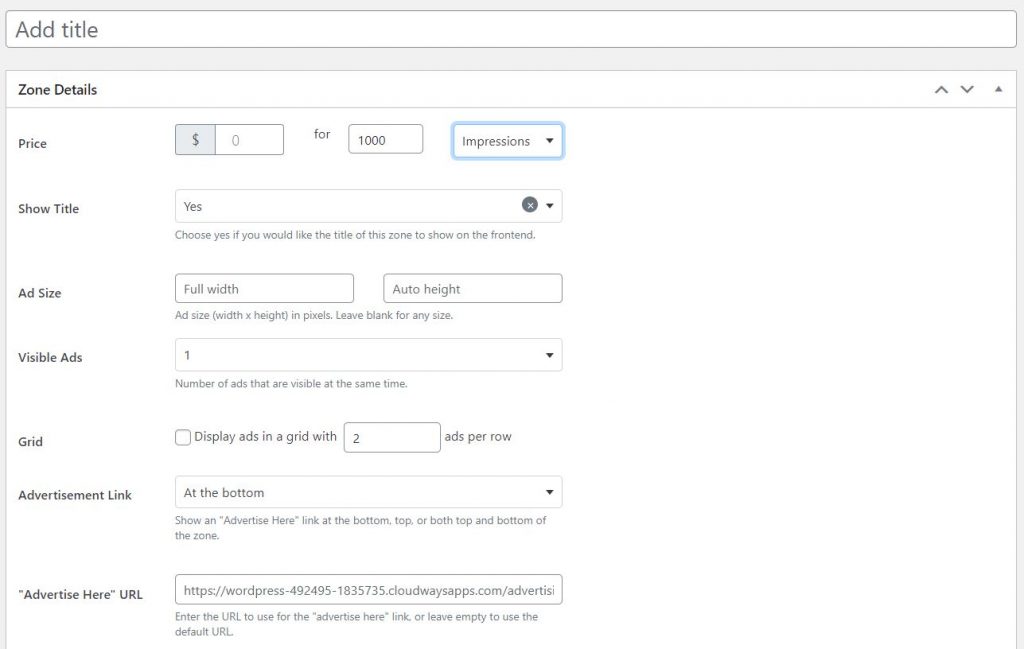 You can sell Ads by a number of impressions, clicks, or by time on your website. In the future we will add a bidding system to rank ads.
Insert ads on your WordPress website

The Advertising add-on for GetPaid allows you to create zones for your WordPress website where ads will be displayed and add them to your website via automatic rules, or by adding a code snippet to your templates, or via shortcodes/blocks to be added to your pages using page builders.
Advertising Dashboard
The Advertising add-on for GetPaid creates a dashboard for your advertisers to create new ads or manage their existing ads, providing them statistics and reports.
Get the bundle and save 90%
Only $229, including 1 year of support, updates and all new products released.
Get Membership
(Shorter plans available at lower initial cost)
30 day money back guarantee!
(For our protection, refunds are not permitted on Lifetime Deal)