GeoDirectory Translation in 2018
Our goal is 20+ translations by the end of the year!
Join the GeoDirectory translation team to translate GeoDirectory into 20+ languages in 2018! Read on to learn about how you can join our awesome language team that translates GeoDirectory using our cool new Translator's Handbook.
Calling All GeoDirectory #polyglots !
Hello, my name is Ismi Aini, and I do UX including translations. I'm here to support members who want to translate GeoDirectory into their own language. I can help you find your translation team and get your request for validation filled out correctly. In this post I also want to introduce our new Translator's Handbook where we keep all the resources you might need. Our goal is to help you translate GeoDirectory into 20+ languages this year!
Who Translates GeoDirectory? Everyone!
In 2017 WordPress translations changed completely. First there was a change to the location of translation files, and now the responsibility for who creates the translations has changed, too. Instead of plugin authors, it is now all of us, the plugin users and site managers and everyone together who are responsible for translating plugins into our own language.
It's a big job, but luckily both WordPress.org and AyeCode are providing us with tools and support to help us get organized. Read on to find out more about joining the GeoDirectory Translations Team and make GeoDirectory available in 20+ languages in 2018!
GeoDirectory Core Translations are on WordPress.org
Have you heard? Translations for GeoDirectory are now available on WordPress.org. You can visit the GeoDirectory page on WordPress.org and click through to see the GeoDirectory translations. If you are logged in you can click right through to your language and start translating!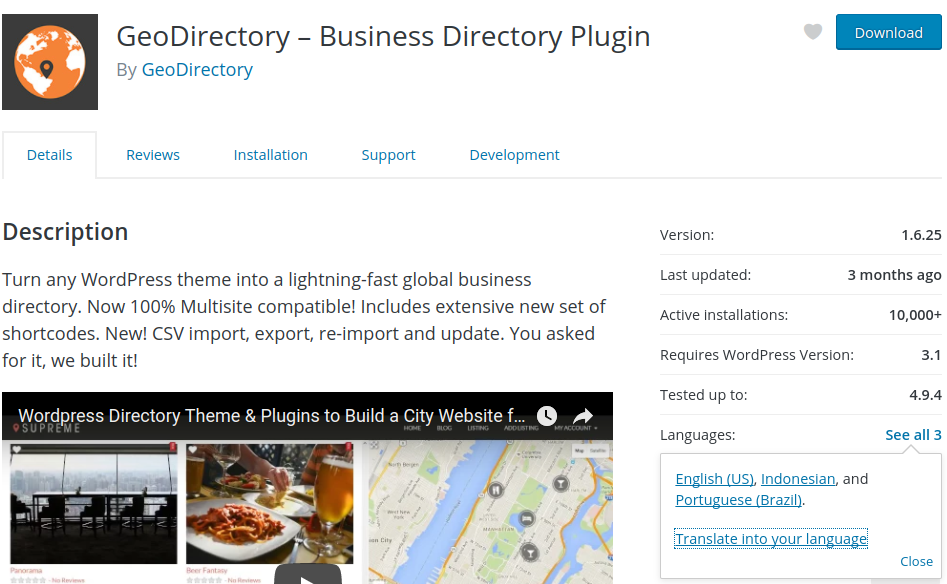 GeoDirectory Translator's Handbook
Each WordPress language team for WordPress has different rules, so we decided to put together a handbook to make it easier for our members to find their language team and get started on their translation. In the handbook you can find details about the GD forum topics for each locale, reaching out to your WordPress language team, flagging the GeoDirectory language during your validation phase, and even a template for submitting your validation request to your language team. The new Translator's Handbook is here so check it out!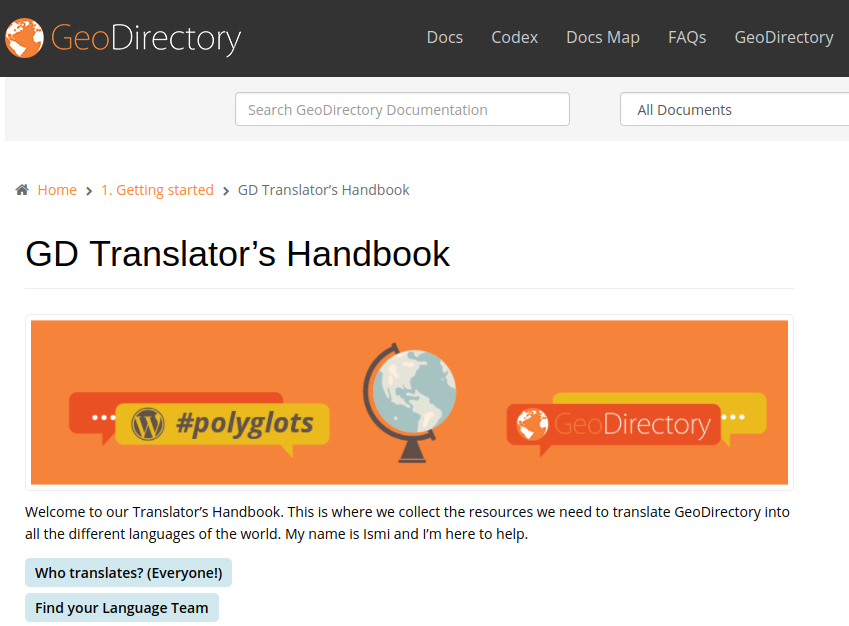 GeoDirectory Membership for Lead Translators
A lead translator for each language can gain and keep a free GeoDirectory membership by completing the translations of the GeoDirectory Core plugin and addons, getting them validated, and keeping them updated. When the translation shows on WordPress.org we will get your membership approved and you can continue on with translating the addons. You can see the complete details in the handbook.
Join the GeoDirectory Translation Team
Join our GeoDirectory Translation team by participating in our Translation Forum and on WordPress Slack. We work together and update the forum locale topics so everyone can join in and keep track of your progress. Get started by taking a look at the GeoDirectory Translator's Handbook and following the steps listed there.
Comments or questions? Join us in the new GeoDirectory Translations Forum!
Stay Updated!
Get the latest news, tips, and exclusive content directly in your inbox.