8+ Ways to Monetize a Directory Website
Working from home and reaching financial independence is possible. Here are several options to accomplish this.
If you're wondering how to make money with websites, creating an online directory is one of the easiest ways.
It's even how Elon Musk got started, and how he funded X.com, which later became PayPal.
But now, you need to know how to build a paid directory website.
You can do this well with WordPress and our GeoDirectory plugin, the leading WordPress directory plugin.
Without further ado, here's how to make money with a directory website.
How to Build a Paid Directory with WordPress
Before you can make money from your online directory, you need to build one.
Once you have a hosting plan with WordPress installed on it, you can install and enable the GeoDirectory plugin.
For details, check out our guide: How to Create a Directory Website with WordPress.
You can also take a look at specific use cases and how to build them for inspiration, including:
How to Monetize an Online Directory with GeoDirectory
Now that you have one set up, you need to decide how to make money with your online directory.
Below are the most dependable ways to make money with your directory website.
You may need some add-ons, which will be noted depending on your decision.
1. Sell Premium Listings
With the Pricing Manager add-on for GeoDirectory, you can sell premium listings that let users see more fields when creating listings.
They can help offer the correct details others will be searching for to make more thoughtful connections.
You can let users have the option to include fields like more pictures, categories, tags, a longer description, and extra custom fields.
You can also set up premium listings to be "featured," which means you can automatically display those listings in the prominent places of your site that make sense for your specific directory.
This can mean at the top of category pages and using widgets for other areas of your site where you may need them.
You also have the option to set premium listings to have the ability to hide these "featured" listings automatically.
For example, free listings on a real estate directory could see a "Similar Places" section where premium listings are featured. This could be hidden when a user upgrades.
The pricing manager also lets you enable subscriptions.
It's available in case you know your type of directory needs to let your users have the option to set their premium listing on a subscription basis: with recurring payments, where their "featured" status continues.
This works well for job boards or real estate listings, for example.
The options for potential use cases with this plugin and add-on are quite extensive.
This makes it potentially helpful in adapting it to your creativity.
You could create a unique directory that stands out from others.
This would be your foundation for a loyal fanbase that's dedicated enough to lead to more sales generated reliably for you.
2. Sell Advertising Space on Your Site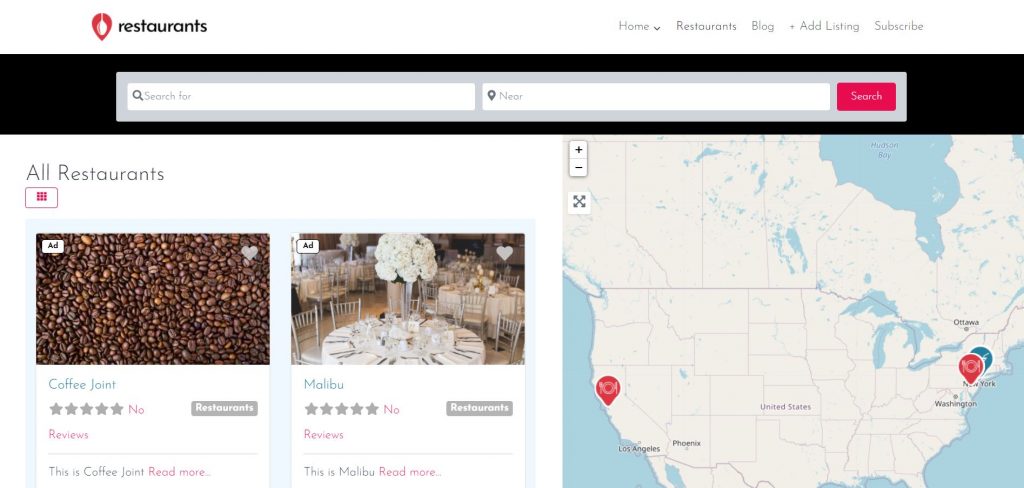 Installing the Advertising add-on for GeoDirectory allows you to display and monetize ads on your site from a network such as Google Adsense, Ezoic, or Mediavine.
This is the easiest way to sell ads because the network does the heavy lifting of finding the advertisers, and you sell space to ads network.
However, you can also sell ad space directly to your users.
You can create several advertising zones on your website and let users buy ads to display on one or more of these zones.
They will be able to upload their images and banners or HTML/text, and you can set the ad price by the number of impressions, clicks, or time on your website.
When you include the Pricing Manager add-on for GeoDirectory, you can sell premium listings that display or hide ads on different parts of your site, depending on your needs.
With this add-on, listings marked as ads can appear on the sidebar of your site's organic search results page, similar to Google.
3. Set Your Price for Businesses to Claim Their Listing
With GeoDirectory, you can create free listings with minimum details, such as business name, telephone, logo, and a brief description.
Then you can use the Claim Listings and Pricing Manager add-ons to set a price for business owners to claim their listings and improve the data shown to your directory visitors.
Business owners can claim their listings by upgrading to a premium listing where they control the content of the listings on your online directory.
After paying and becoming the listing owner, they can add a longer/better description, more pictures, links to their website and social media account, and whatever custom field you make available only to premium listings.
4. Create a Marketplace that Sells Event Tickets
If you intend to build a directory of Events, you can do so with GeoDirectory and the free Events Calendar Plugin for GeoDirectory. Your visitor will be able to submit event listings.
The Events Ticket Marketplace add-on extends a GeoDirectory Events Directory, enabling event organizers, so they're able to sell event tickets.
There are different options for how to build a paid directory in this case.
Let event organizers upgrade to a premium event listing and keep 100% of their ticket sales revenue.
Or, you can offer free event listings and charge a commission for each ticket sold.
5. Collect Commissions on a Listing's Product Sales (Marketplace)
You can set up your directory to let users sell products through their listings on your site.
You can also set your commission rate on those sales. You can do this with the GeoMarketplace add-on, free WooCommerce, and MultiVendorX (formerly WC Marketplace) plugins.
This solution can be applied to various directory sites; for example, you could create one for restaurants where owners can sell their dishes for pick up or delivery.
Or, you could create a site like Etsy where listing owners can sell their handcrafted products.
Another example is setting up a marketplace where users can search for the closest shop to buy a specific product they have in mind. This way, they can buy it online but pick it up physically at the store the same day.
6. Use Affiliate Links
Another option is monetizing the content in your directory's listings or on the blog with affiliate links.
There are several options for partnering with companies to create affiliate links for their products or services, such as Amazon Associates, CJ, ShareASale, or Clickbank.
If you create a Hotels directory, you can join the booking.com affiliate program. By integrating links to their hotel's booking system into your online directory website, you may earn a commission for each booking made through your directory.
7. Sell Leads
Not every business participates in an affiliate program that will recognize a commission for every product sold or booking made by a visitor referred from your directory website.
To these businesses, you can sell leads.
But what is a lead?
Business leads are consumers interested in what your company offers.
How do you get the leads? A customer contacting a business through a listing on your website is a lead.
Instead of letting customers contact the business directly through the contact form on their listing, ensure you receive these emails instead.
At that point, you will have the leads to sell.
Once you have a lead, email the concerned business saying you got a business inquiry from a potential customer interested in their products or services.
Let them know the first three leads will be provided for free, and from the 4th, you will be charging $3 per lead (or $30 or $300, depending on the price of their product/service).
For example, you could do this for the free listings, while paid listings receive the contact forms messages (leads) directly.
Tell the business owners that if they pay for premium listings, leads will be included, and you will give them another incentive to buy a premium listing.
GeoDirectory doesn't have a system to automate this, but it will be built shortly.
You can do this manually, using our GetPaid plugin to send the invoices for the leads.
8. Sell Extra Services for Listings
Many businesses need help with online marketing, especially in most locations outside of major cities.
Every business owner who submits a free or paid listing into your directory is a lead. They are looking for extra visibility, and you can help them to get it.
So, you could sell marketing services for local business listings in your online directory.
You could sell extra digital marketing services such as:
Letting users create premium listings that act as mini websites for businesses that don't have an online presence.
Website development to build an actual website and expand their information from the listing.
Social media management and creating web 2.0 pages, including Facebook, Instagram, Twitter, LinkedIn, Google My Business, Yelp, Trip Advisor, and similar sites.
Search Engine Optimization (SEO) services.
Photography and Videography.
Copywriting for the listings or their website
Ads management.
Reputation management.
and much more.
9. Sell Your Online Directory
Now that you're set with knowing how to build a paid directory with a WordPress online directory plugin, you can grow your business.
Once you reliably generate sales every month from it, you could choose to sell it.
There are plenty of websites where you could sell it, like flippa.com, empireflippers.com or microacquire.com.
You could keep it as a recurring revenue stream, or you could decide to use the profit from the sale to start something new like Elon Musk did when he used his share of the online directory Zip2's sale to fund x.com and eventually create PayPal.
Back then, Zip2 sold for $307 million, and the need for online directories still very much exists.
For details, check out Online Directory Business Model Explained.
After Finding Out How to Make Money with Websites and Directories
You can generate extra sales if you know how to build and monetize your directory with a WordPress business directory plugin.
Do you have any questions about how to make money with websites, how to build paid directory sites, or anything similar? Let us know in the comments below.
You can get GeoDirectory here today: