Introduction
Documentation
Forum
Support Request
Support Policy

Here at AyeCode we are proud to offer 5 star support for bugs and plugin related issues. If our plugins aren't working, we will absolutely do our best to help. Here's how we do it.
Take a look at the documentation. We cover everything here, and we hope you can find your answer here first. We update the docs regularly.
Looking in the past forum topics can provide a wealth of answers. Try a simple Google search inside the forum.
In the support forum we do our best to get GeoDirectory site working. We wrestle bugs and are always available to answer questions; every question you ask, we also learn from you, and we get a chance to update our documentation with more and better answers each day.
In some cases, if the documentation isn't enough, then you may need to create a support request. You can do that in our public support forum here: https://wpgeodirectory.com/support/
Did you find an issue? Let us know! Scan this forum to see if your bug already exists. If not, please make a new topic and include the following information:

 - Description of the issue
 - Expected behavior
 - Page/Template page where you found the issue (and URL if possible)
 - Steps to recreate the issue
 - Browser used for testing
 - Confirm fresh install of WordPress
 - Confirm plugin beta version (2.0.0.2?)

Please report all issues in this forum: https://wpgeodirectory.com/support/forum/geodirectory-core-plugin-forum/v2-beta/
Want all the details about changes in V2? Then take a look at the changelog file.
You can find the latest version online at Github here: https://github.com/AyeCode/geodirectory/blob/master/change_log.txt
Prepare your support request
Step 1. Identify the appropriate forum and create your support topic.
Step 2. Prepare your status report
Step 3. Paste your status report into a private reply
1. Identify the appropriate forum for your topic.
Tell about what you are trying to achieve, and what is blocking you. If you have seen other similar forum topics, tell us about what you think is the same or different. There is no need to add any site specific information in your new topic. Save your site URL and WP Admin credentials for the private reply below.
2. Prepare your status report
Visit GD – Status and select your status report, as shown below.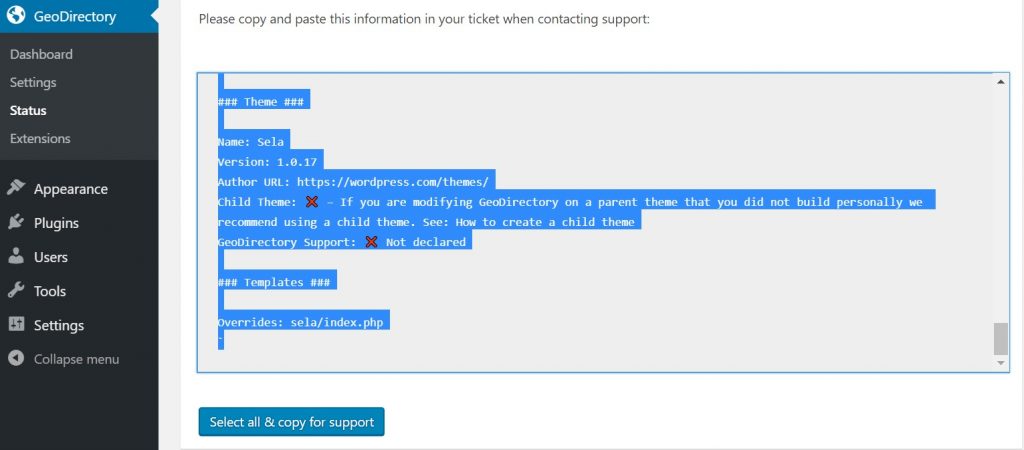 3. Past your status report into a private reply
Create a new reply to your support topic. Mark the topic as "Private". Write all the following information into the topic:
URL where we can see the issue:
WordPress Admin User Credentials
Login URL:
Username:
Password:
FTP Credentials
SFPT or FTP:
Host URL:
Port:
Username:
Password:
Then, paste your status report, and submit the reply.
In the support forum we do our best to help with bugs and to answer questions. Take a moment to review our support policy to understand the limits of what we can do to help with your site: Support Policy