Summary
Fresh Install
Convert V1 to V2
Next Step
Support

This document covers installation for a "Fresh Install" or to Convert from V1 to V2.
For more information about the status of GeoDirectory V2 please see: https://wpgeodirectory.com/try-geodirectory-v2/
Whether you are doing a fresh install or a conversion, please look through our docs here on the site to become familiar with the way that GDV2 works. You can start with our Getting Started document.
Make sure you download the correct V2 Addons and Themes to use with GeoDirectory V2 Core plugin.
V1 Addons and Themes CANNOT be mixed with V2 Addons and Themes.
GeoDirectory V1 Core plugin requires V1 Addons and Themes.
GeoDirectory V2 Core plugin requires V2 Addons and Themes.
If you are a using Supreme Directory child theme and Directory Starter parent theme, and the V2 versions do not appear in your account, use the links below to 'purchase' them again from our shop (for free) to get access to the latest versions.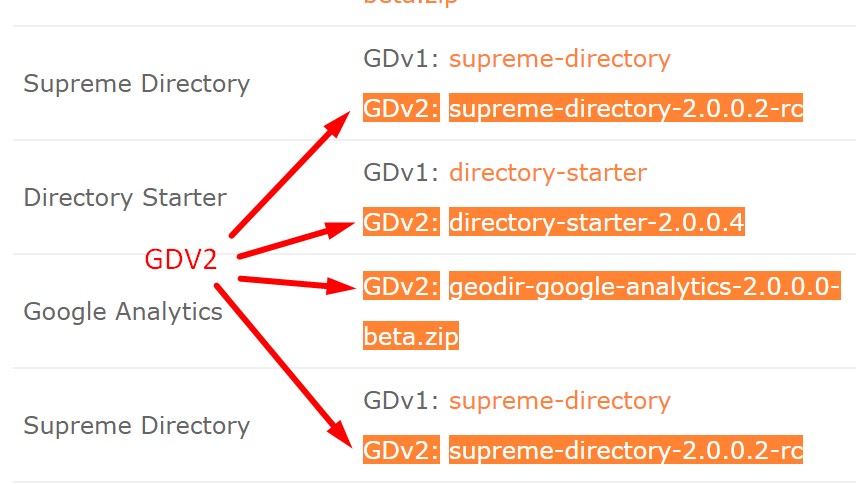 A short set of instructions for how to setup a testing site with GeoDirectory V2.
Setup a fresh install of WordPress.
Download GeoDirectory V2 Core Plugin, then upload and activate.
Download WP Easy Updates here, then upload and activate.
In the WordPress Backend visit GeoDirectory – Settings – General – Developer
Select "Enable beta addons" as shown below and save the settings.
Download, install, and activate GDV2 Addons.
Download, install, and activate GDV2 Themes (or use a 3rd party theme).
Proceed to the Getting Started document for setup instructions.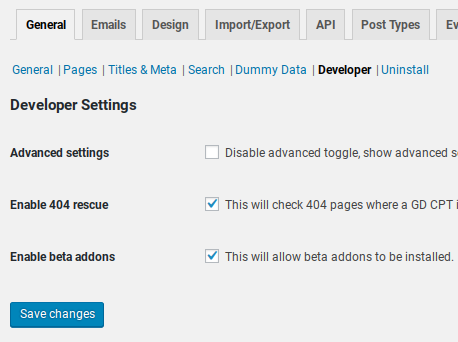 We highly recommend that GDV2 upgrades be attempted on a staging/test site, using a backup copy of your live site. Once you upgrade you can take a look at the site and see what setup is required.
Notice: Updating to GDV2 from GDV1 is not reversible. The Converter tool's actions that update you site's GDV1 data do not have an "undo" action. It is critical that you create a backup of your complete site before starting the upgrade process.
Upgrading requires that you move/remove/delete your site's GDV1 core and addons.
Moving or deleting plugin can be a little scary, but don't worry, nothing will happen to your data as long as you have visited the "Uninstall options" and made sure to uncheck all the options:


Important! PLEASE RED THIS LIST BEFORE ATTEMPTING CONVERSION.
If you are not yet ready to go through with the GDV2 conversion of your site, when you see this image you have the opportunity to downgrade to GDV1. Remove all GDV2 addons and load GDV1 and GDV1 addons.


Here are some important considerations to make before converting your site.
CSS – GDV2 has been rewritten to inherit the styles of your theme. You may not need custom CSS at all. If you are converting, take amoment to copy old Custom CSS out of GD – Design – Scripts – Custom CSS before the conversion. You can add it back to Appearance – Customizer – Additional CSS if you still need it.
Themes – Users of Supreme and Directory starter must upgrade both themes during conversion.
Theme Customizations and Snippets! – GDV2 has been rewritten to make it easy to change the layout of the GD Pages, and you may not need theme customizations. The Converter will not convert customizations that you have made to your themes. Most php-based V1 customizations for V1 will not work with V2. You should remove GDV1 customizations and snippets before you convert.
Home Page! – In GDV2 you can set any non-GD WordPress page as your home page. You cannot use the Location or Search pages as your home page. You will need to add shortcodes and other content to your GD Home page after conversion if you are using GD Home as your site home page. Read more here.
V1 Shortcodes! – You will need to change/update GDV1 shortcodes to GDV2 shortcodes. If you are using shortcodes on your homepage, you must update them to V2 as they will not be converted automatically.
Translations! – The Converter tool will not convert your translation files. If you have custom translation files, you will need to update them using the "merge" method described here.
Builders! – Advanced theme builders can be used on the GDV2 templates, but we do not provide support for builder usage outside of the use of GD shortcodes and widgets on non-GD WordPress posts and pages. Read more about Builders.
Send Enquiry! – The built-in Send Enquiry functionality has been removed from V2. The new "Contact Form" feature is achieved through an integration with Ninja Forms. This requires some setup and Ninja Forms (free).
Cache! – GD Booster is only for GDV1. Before you deactivate GDB< please clear the cache, then deactivate and delete the plugin. We have a page here about performance to consider while seeking a new cache solution for GDV2, which should work with any other cache plugin.
Conversion Overview
During the GDV2 beta the conversion/upgrade process is non-trivial. Here is an overview of the recommended procedure.
Backup site, files and database
Clone to a staging server
Perform conversion as described below
Backup the staging site
Clone site back to production server.
Depending on how you have built your V1 directory you may have extensive changes to make before you wish to deploy GDV2 on your production site, and so leaving your site on the staging server for buildout is a good option.
Review the V2 status page:https://wpgeodirectory.com/try-geodirectory-v2/
! Backup all files and your database !
Download the GD V2 core plugin and the same V2 addons you are using in your V1 site from https://wpgeodirectory.com/your-account/
Remove/disable any custom work done for GeoDirectory
WP CRON must be active on site ( it should NOT have been disabled by adding "define( 'DISABLE_WP_CRON', true );" in wp-config.php)
Deactivate non-GD addons if possible to improve site performance during upgrade
Close any window where you have your WP admin active.
Using FTP, move all GD V1 plugins from /wp-content/plugins/ to /wp-content/plugins/backup/
! Do not delete or deactivate them from the admin area !
Now extract and upload all V2 plugins to /wp-content/plugins/ using FTP.
Now re-open your WP admin and follow the prompts from the GD Converter.
If you are using Supreme Directory or Directory Starter, delete those and add the V2 versions.
The Converter Tool notice to convert your V1 data to V2 will show up once the GDV2 core plugin has been installed, and only if the site was previously running GDV1. The Converter script only needs to be run once.
V2 Converter Tool Notice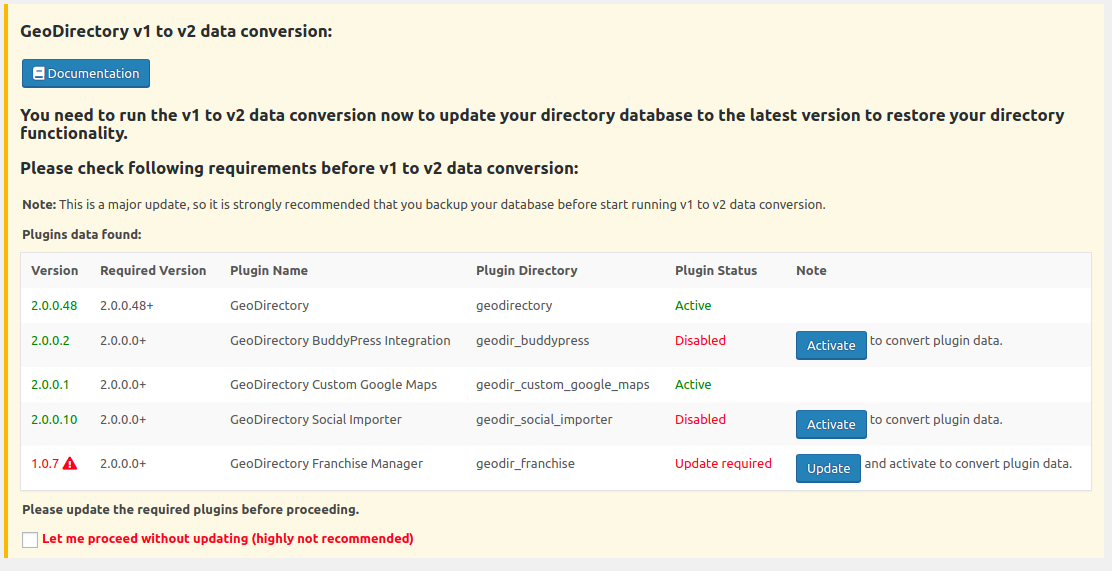 Enable Beta Addons in GD Settings
Converter not running? Add &do_update_geodirectory=1 to any wp-admin/ url to run it.

Proceed to Getting Started
Get support on our forum, fnd out more here: